Cultivation
Thanks to our eye for quality, we deliver high-quality flowers and cuttings
When cuttings are planted with flower production as the ultimate goal, the flowers are deadheaded for the first two years. The first flower harvest does not take place until the third year. This way, the energy is channelled to the bulbs, which produces good quality flowers. In addition, it is ensured that enough stems remain on the plants so that good quality flowers can be harvested again the following year.
We spread the quantity of the peonies out and grow different varieties so that our range flowers early and later in the season. We cut the flowers at a ripeness where we know they will open. We also ensure that the ripeness is the same within a batch of flowers. This way, the end consumer will not be disappointed!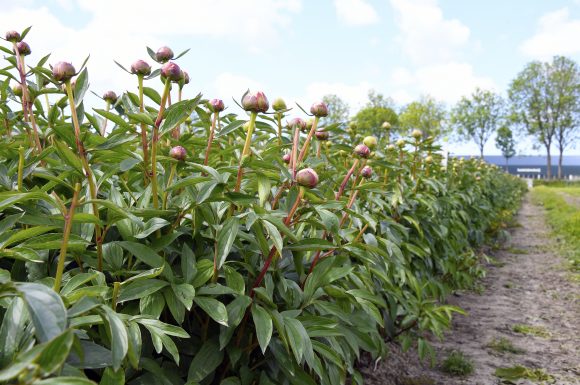 We look for exclusive strains that have characteristics that we think are most important to both the grower and the consumer, such as good growth of the cutting, the quality of the stem, the opening of the flower and whether it blooms for a long time. We leave enough stems of the plant so that the plants can produce heavy stems again the following year.