Cultivation
Bulb cultivation in the Netherlands, Chile and New Zealand requires careful attention
Our tulips are grown in West Friesland, South & East Flevoland, North East Polder Flevoland, New Zealand and Chile. The cultivation covers approximately 215 hectares of tulip bulbs. Every year we produce around 50 million tulip bulbs that are destined for our customers. In our forcing facility, we produce approximately 40 million tulip flowers every year (late September to early May).
The Netherlands
In October we plant our tulip bulbs in the Netherlands and in June and July we remove the bulbs and peel them. During this period, we strive for a high-quality end product during cultivation. This cultivation process is very precise and means that during these months we, continuously anticipate the weather conditions and their effect on the living environment of the bulbs in the soil.
We use the bulbs for our own export, sell the available bulbs to flower bulb export companies and grow tulips from them in our own nursery.
Southern Hemisphere
In the Southern Hemisphere in Chile and New Zealand, we plant the bulbs in April and May and harvest the bulbs in January. They are then peeled and sent by container from March to June to buyers who turn them into tulip flowers. These bulbs go to China, America and countries in the Southern Hemisphere. We also ship bulbs to our own company in the Netherlands to use for our nursery and export to European countries and Russia.
The cultivation takes place in various areas in the Netherlands, in Chile and in New Zealand and comprises a total of approximately 215 hectares. The Netherlands: 165 hectares (West Friesland, North East Polder and Flevoland), Chile & New Zealand: 50 hectares in total. By growing bulbs in the Netherlands and the Southern Hemisphere, we can supply bulbs and tulips almost all year round because the seasons are exactly the opposite.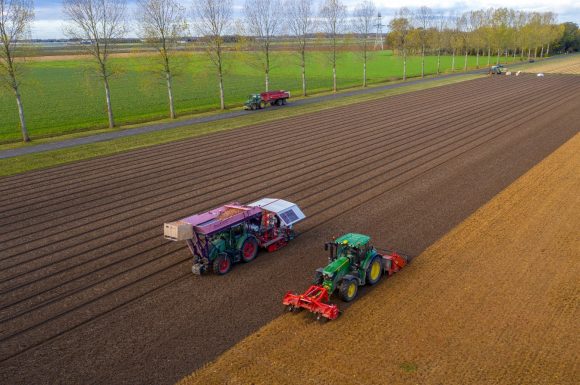 What does the cultivation process look like?
The cultivation process is very precise and we always have to deal with the influence of the weather. In the spring and summer, our main task is the care and harvesting of the tulips. The cultivation care is partly done by our own employees and machines, but contract growers also do this for us in the countryside with their employees and machines.
Taking care of the bulbs: removing weeds and watering.
Selection work: the tulip stems are checked on the field and in case of virus or fungus they are pulled out. This is done by our own professionals who have a lot of experience with our new range.
Deadheading tulip flowers: in this way the growth goes towards the bulb and not towards the flower.
Harvesting bulbs in the field and transport them to the barn for processing.
Rinsing and drying of the bulbs.
Peeling tulip bulbs: the roots are peeled from the bulb, this is mainly manual work but is also partly done by machine.
Sorting and counting bulbs by size.
Delivering the bulbs to the various buyers